The Most Versatile, Durable and Economical Method of At-source Air Pollution Capture
The use of self supporting joints, flexible hoses and smooth steel tubing make the arms easy to work with and keep it near the source of the air contaminants. So contaminants are removed right at their source.
This unique design has become an industrial standard for air pollution control.
Fume arm tubes are fabricated steel with cast aluminum joints which include friction disc and are fully adjustable to the workers desired tension. The arms include a handle which completely encircles the hood in order to facilitate easy repositioning from all sides.
Key Features & Benefits
Industrial strength and durability
Versatile design
Smooth tube construction
External supports and self locking joints
All around hood and tube grab handles
Air diverter in the hood
Standard damper
Benefits
Exceptionally long operational life time
User friendly construction
Better airflow at lower static pressure
Low noise performance
Easy to adjust and maintain
Simple and stable positioning
Increased capture velocity
Applications
Welding
Grinding
Oil mist
Cutting
Polishing
Painting
Packaging
Laboratories
Soldering
Light Dust
Specifications
Standard Temperature Resistance
Recommended Airflow Range
Hood Diameters

Ranges from 8" on the 4" Arms to 14" on the 8" Arms
Analyzing the Benefits of its External Support System
Its External Joint System has:
Free and smooth airflow
Low noise level
Lower static pressure
Quick and simple cleaning
Minimal dust build up
No contact with interior for adjustment
No need to stop the airflow to adjust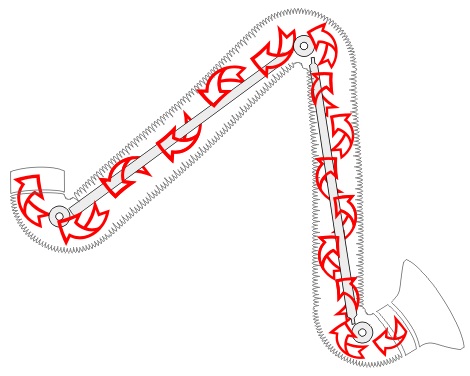 An Internal Support Mechanism has:
Reduced airflow due to higher internal resistance
Higher noise level
Complicated to to clean
Dust builds up on internal mechanisms
Replace whole hose if broken
Contact with dusts to adjust friction and arm balance
Note: Certain sizes/configurations are currently unavailable and not able to be purchased or viewed on the website. For questions or help, contact us.