---
Vacuums are useful for many cleaning and collecting situations.
This is no secret.
Whether you're in an industrial, commercial, or residential setting, vacuums are nifty handheld tools that work as a dust collector and cleaning accessory for quick pick ups or heavy duty jobs.
But vacuums can also be so much more than that.
That's why Bisco Enterprise is on the forefront of developing and distributing the finest industrial grade, high capacity vacuum cleaners on the market.
Our aim is to provide high powered machinery for industrial and residential dust collection, cleaning, and overall clean air management.
Bisco Enterprise specializes in clean air systems for industrial applications, but our versatile and innovative solutions have also expanded to provide one of the widest arrange of options in the industry.
But, how does that relate to vacuums? We're glad you asked.
Most vacuums are practical only for picking up dry debris, such as dust particles, dirt, rocks, and other gradients.
Not ours.
We are proud to extend our line of wet/dry vacuums, each of which has its own practical application, for the collection of either dry or liquid particles in your industrial facility, school kitchen, residential basement, or wherever you need it most.
Wet/dry vacuums have an array of practical uses, as well as some that you may not have previously thought about.
In this blog, we'll take you through some of the best uses and benefits of wet/dry vacuums, as well as lay out the four options offered by Bisco Enterprise to help you with source capture in order to clean your industrial space, combat pollutants, and fight sludge and grime in your area.
Wet/Dry Vacuum Uses
Wet/dry vacuums are different from your normal, everyday household vacuum in that they don't use a traditional bag method to capture debris.
Instead, using an innovative two bucket system which separates solids from liquids, a wet/dry vacuum can be even more versatile while also expelling much less dirt throughout the process of cleaning than traditional vacuum options.
Additionally, most wet/dry vacuums offer a blower function, which improve function and can come in handy when you need to move things around in your working or living space.
Here are a few ways in which you can get the most out of your wet/dry vacuum:
Spills: This one is the most simple, but likely most common, application for your wet/dry vacuum. From sawdust to large clumps of dirt to even mud, your vacuum can be your best friend when it comes to picking things up. With the wet/dry variety, that use can be extended even further to cover things like burst water pipes in the basement, sludge and goop in the kitchen, or other liquid spills in your industrial warehouse or building. The possibilities are truly endless when it comes to dirt, water, crumbs, sludge and more.
Clogged pipes: While your wet/dry vacuum can be great for creating heavy duty suction, it can also be set to blower mode to produce some high powered air output as well. This can come in handy when it comes to clogged sinks in the bathroom, clearing space to fit wiring through conduit or other pipes, and much more. Not everyone has a drain snake just lying around the house or building, which is why a wet/dry vac provides for a better practical option for these types of job.
Clean Your Fireplace/Furnace/Barbecue Pit: Do you have an incineration area that gets used a lot during the winter months? Your wet/dry vacuum can help you clear the area efficiently. Instead of making a mess with a broom and dustpan, simply suction all of the ash and other residue up. Need to get the area wet first? No problem, your wet/dry vacuum can handle it.
Clear Sidewalks or Walkways: Maintaining a safe, clear working environment is crucial to employee health and happiness. With a wet/dry vacuum, you can ensure this remains the case by clearing away snow, leaves, or other debris from your building's sidewalks and walkways. With the blower setting, you'll generate enough power to clear away the heavy stuff, and then you can even switch it to suction mode to get any remaining wet or slick spots.
Drain and Clean Pools, Aquariums, and More: Need an efficient way to drain and clean your kids' pool, the office aquarium, or complex bird bath? Set your wet/dry vac up to suction and get started with high powered action. You can now scoop up hard to reach wet spots and leftover puddles without a problem.
MORE: The great thing about wet/dry vacuums is, the possibilities are truly endless. You can suction up your carpets and return them back to prime form, tackle household water disasters, easily clean your school's locker room, and a whole lot more. Wet/dry vacuums are safe and easy to use, especially when you get them from Bisco Enterprise.
Bisco Wet/Dry Vacuums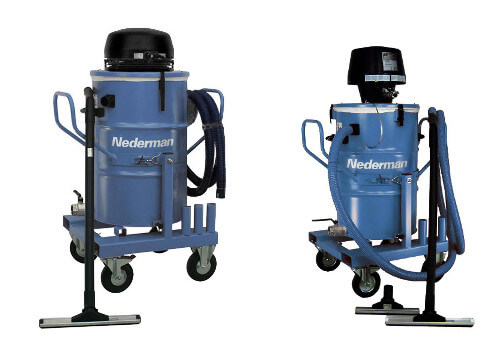 Bisco Enterprise offers a wide array of vacuum systems, from wet vacuums to dry vacuums to combination wet/dry vacuums.
All of our wet/dry vacuums are Nederman built systems with multiple uses and high powered functions. Our offerings include:
Nederman 510E: This wet/dry vacuum places more of an emphasis on coarse particles such as chips and granules, though it also works great for the pickup of liquids, sludge and more. With a single container system that holds a large volume, this unit also has a bottom drain for quick and easy cleaning.
Nederman 510A EX: Our only completely ATEX approved wet/dry vacuum available, this wet/dry vacuum has a single-container system built for optimal extraction of liquids and coarse particles such as water, dirt, dust, sand and more. Ensure your liquids and debris get properly filtered with a polyester filter bag and its high volume collection capacity and convenient drain valve make this your answer for the ultimate wet/dry vacuum.
Contact us to learn more about our various industrial dust collection items and air cleaning systems.